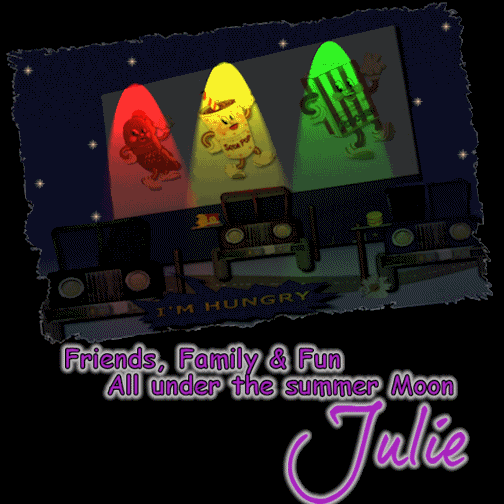 For this tut I used the following
Kit: 'Are We There Yet' from Bits N Bobs found HERE
Animation Shop
Screen Image made by me found HERE


First open a new image 800x800 filled with one of the sky gradients I used Sky4 with a texture of cobblestone and then flattened the image.
Open the screen and place it where you would like
Add the cars, road and what ever images you would like to add from the kit, adding a drop shadow when you would like to. Make the tag look like you would expect a Drive In to look like (Sad thing is most kids today will never even see a drive in)
Effects>Illumination Effects>Lights
Preset of Traffic Top. You may have to move the lights around a tad to get them on the top of your screen settings are below.
Add copyright or watermart
I used a frame for mine, Brushed edges
Resize to 50%
Copy Merged to a new 800x800 filled black
Mine is tilted a bit
Add text as desired, mine I also used a gradiant glow on
Merge All
Add a new raster layer
Add star tubes as desired
Copy merged to Animation shop
Back to PSP
delete star layer
Add new raster and make stars again
Copy Merged and paste in Animation shop after the current frame
Do this as many times as you desire
Run
Save as .gif file
Blessed Be
Lorilynn