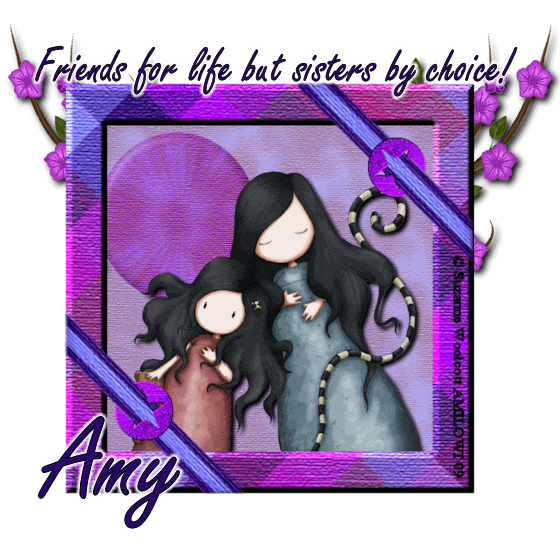 For this tag I have used the following supplies
BFFL from Amy's Scrap Place which can be purchased
HERE
Animation Shop which can be found in my quick links at the top
Let's get started!
resize frame 3 to 150%
Place on 800x800 transparent layer as a new layer
Open flowering tree
rotate as desired
place under frame layer. Repeat as desired.
Pick your background of choice and place under the frame layer, and above the tree layer.
I have changed the transparency of mine to 50%
Place your tube on top of the background layer.
Add all copyrights and wording.
Minimize your tag
Open a new 800x800 transparent canvas
Place button 6 (or whichever you choose) at about 175 top and 225 side
(you can check your placement by placing your tag layer over it if you would like)
adjust as needed
Open Animation Shop
Using your main tag layer. Resize 70%
Copy Merged
Past into animation shop.
Using Ctrl+L twice you will get a total of 3 frames.
Back to PSP
On your button layer Copy merged and place 1 layer as a new animation
Back to PSP
Rotate the button a bit and then copy again
Paste after the other button frame in AS
repete
Going to your tag layer
CTRL+A to select all, and then CTRL+C to copy all
on top of your button layer
CTRL+A to select all
CTRL+E to paste.
Run
Save