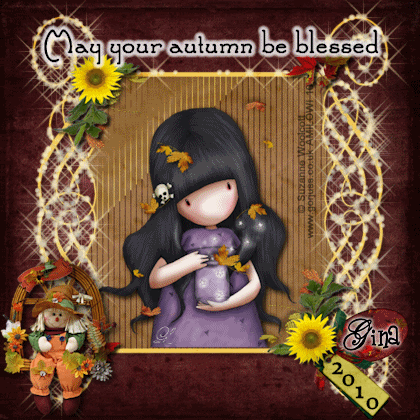 For this tutorial I have used the following supplies
November Harvest kit from Gina's Gems available HERE
Alien Skin Xenofix 2 Constellation Available in quick links
Alien Skin 5 Impact G radiant Glow Available in quick links
The Beautiful work of Gorjuss available in my quick links
Vix Mask 421 available in quick links. Please have this preloaded into your masks folder.
Thank you Gina for allowing me to use your kit as well as adding me to your Creative Team!
Let us begin,
First open your background and foreground papers of choice.
Apply Mask to your foreground paper. Merge Group, Copy and paste onto your background paper.
Copy and paste your tube where you would like
Add elements as desired. I have used NH Botanical Flower 4, NH Branch 3, NH Double tag 3, NH Fabric Leaves deco 1 and NH Scarecrow 4. Resize and place as desired.
Add all wording (I Have used a gradient glow on my tag by changing the green glow setting in Eye Candy Impact 5 to a white)
Add all copyrights
Resize tag as desired.
Hide background and mask layers.
Merge Visable (This should merge your elements, tube and wording.)
Hide Elements layer
Unhide bacground and mask layer.
make sure in the layers palette layer you are selected on the mask layer
Go into your Xenofix and apply the following settings: (remember the seed number does not matter right now)
Copy Merged
Paste into Animation Shop as a new animation
**Back in PSP UNDO constellation
Now go back to the Effects panel and redo the effect, hitting the random seed button to change the placement of the stars
Copy Merged
Paste AFTER the current frame** (Redo from ** to ** at least 2 more times. I will assume you have done it 2 more times for a total of 4 frames for the remainder of this tut)
Back in PSP HIDE Mask and background layers and UNHIDE the tube layer
Copy
Paste into Animation shop as a new animation. Now hit CTRL+L 3x this will give you a total of 4 frames just like the other animation. (If you have more then 4 just add the extras by hitting Ctrl+L once more for each layer)
Now CTRL+A (Select all) Ctrl+C (Copy)
Click on the mask layer
CTRL + A (Select all) and then CTRL+E Paste and click where you would like the layer placed
Run and Save Animation =)