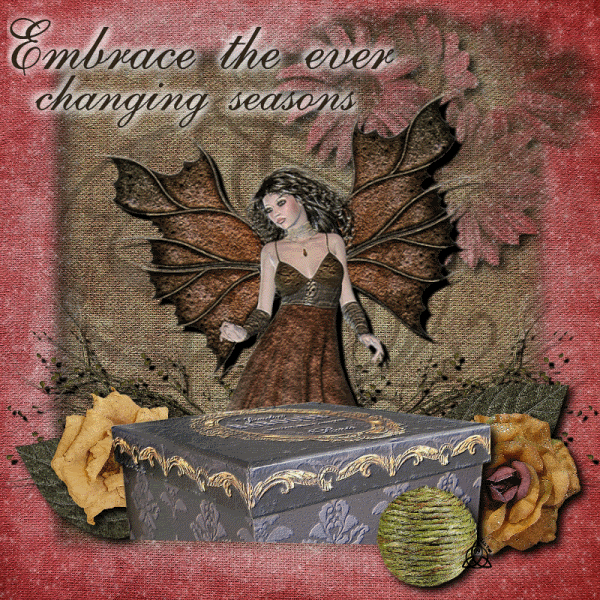 For this tag I used the wonderful work of Vicki from Gemini Creationz called Papyrus which can be found HERE
MASK.. I BELIEVE is Vix, if not and it belongs to you PLEASE let me know and I can correct this oversight.
Animation Shop (Link Above)

Here we go.....
OPEN two papers of choice, background and frame
APPLY mask to Frame paper and COPY MERGED.


PASTE onto background layer, apply drop shadow if you would like. I used 7, 7, 100, 15 BLACK
I wanted more texture on my background so I used Swirl1 with a transparency of 30
ADD Deco Box
ADD flowers ect around as you would like (drop shadows where you feel you want)
I have my flowers LAYERD as so they pop out of my frame. Adjust as needed.
ADD Tube of choice, I used the beautiful fairy included in the kit thanks Vicki!
RESIZE I did 75%
SELECT Your FRAME layer.
Go to your plug in Alien Skin Xenofex 2 > Constellation The settings I used are as follows using random seed:


COPY MERGED
Go to ANIMATION SHOP
PASTE as new image
BACK TO PSP
***UNDO Constellation. Back to PLUG IN, use diffrent random seed, repeat COPY MERGED and go to Animation shop, paste after selected frame. Do this 2 more times (more or less as you would like)*** Notice How many base layers you have in the bottom right corner
BACK to PSP. Add New Raster Layer.
Apply copyrights
Add any text you would like.
Merge the new layers if there is more then 1... COPY only the new layer (s)
PASTE in Animation shop as a NEW Animation
CTRL+SHFT+L to repete as many times as you have base layers
CTRL+SHFT+A to select all
CTRL+SHFT+C to copy
ON BASE LAYER
CTRL+SHFT+A
CTRL+SHFT+E to paste. Remember if you move your mouse you WILL move the layer. Be careful and do not click until it is where you want it. You can fix this with a simple undo.
RUN and SAVE your New tag!