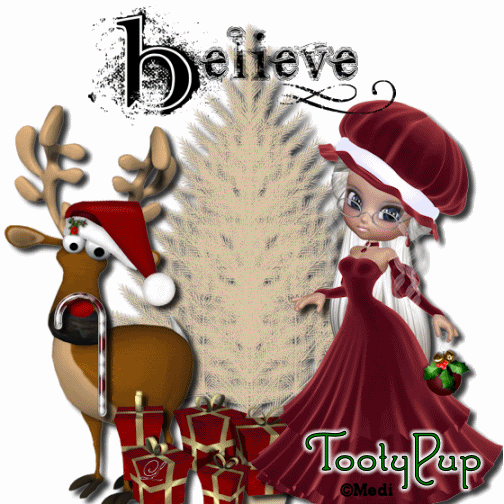 For this tutorial I have used the Christmas Fantasy kit from Tooty Pup
HERE
Animation Shop in my quick links above
Open a new 550x550 canvas
Choose a white Christmas tree from the elements 2 folder (I have used 9) and resize it as needed to fit into the blank canvas black drop shadow:. 5, 5, 80, 7
Effects>Artistic Effects> Aged Newspaper 25%. This should give you a off white tree which is what we need for the image effect to work in animation shop.
Copy Merged
Paste as a new animation in Animation Shop
Right click on the blue bar around your frame in animation shop and choose Insert Image effect.
Select Rotate Colors You can play with this as you would like. I have mine at 5 secs and 4fps for a total of 21 frames. You need to remember how many frames you have for when we go to add the rest of this tag.
Open Mother xmas and resize her about 30% and place her to the right of your tree with the same drop shadow as before.
Open Reindeer of choice (I used 6) and resize about 75% place on left side of tree.
Open presents and resize 50% and place between Mrs C and the reindeer
Open Candy-cane 1 plain, resize 20% and hang on reindeer's nose. Add drop shadow
Open word Art and resize to 10% Paste at the top of your tag
New Raster layer flood filled white, send to the bottom of the tag
Add all copyrights and wording now
OK here is where it can get confusing....
Delete your tree layer (yep that is what I said)
HIDE your white layer
Merge Visible (This should leave you with 2 layers even though you can only see one. The background [white] and everything else. Make sure that is correct before you proceed by checking in your layers pallette.)
Copy your background layer and paste as a new animation in Animation shop with your cursor inside the frame press Ctrl+Shft+L until you have 21 frames (if you have the application full screen it will tell you in the bottom right how many frames you have)
Cursor on your Christmas tree animation hit Ctrl +A (select all) and then Ctrl +C (Copy)
Cursor on your Background Ctrl + A and Ctrl + E (Paste in current frame) BEFORE you click to place the tree make sure it is where you want it in your background. You can always redo this step if needed.
Back to PSP and Copy the layer with all of your embellishments on it
Paste as a new animation and again make sure you have 21 frames as you did above.
Copy and paste this on top of your background and tree layers, making sure again it is placed where you would like it
resize if you would like
run animation
save.